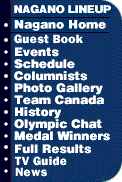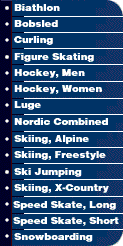 Thursday, February 12, 1998

Gold medal up for grabs
NAGANO, Japan (AP) -- No risks, no mistakes, no advantage.
Nobody cracked.
Russian Ilya Kulik, Canadian Elvis Stojko and American Todd Eldredge were 1-2-3 Thursday after the Olympic men's short program, skating serviceably if not spectacularly and ending up pretty much where they started: Win the free skate, win the gold medal.
Stojko, world champion and macho man of figure skating, may face the biggest challenge of the three. The judges sent him a clear message -- ditch the kung fu moves, the choppy footwork and the funky music.
He basically told them it was their problem, not his.
"I still feel what I'm doing is right for myself," said Canada's 1994 Olympic silver medalist. "I'm a powerful skater. I'm a masculine skater. I don't skate feminine and I'm not going to be that way."
Well, then the only gold around his neck Saturday night may be what he's already wearing -- a medallion the size of a silver dollar that his aunt and uncle gave him after he finished seventh at the 1992 Games, and a chunky eagle.
None of the top three won a majority of first-place marks from the nine judges, although Kulik's skating got the most - four.
Stojko was actually fourth with the British judge, who gave him a 5.7 for technical merit and a 5.6 for artistry. He and Eldredge tied with four of the judges, but his technical marks were higher with all four, giving him the edge for second place.
"I just sort of laughed at the 5.7s because I thought they were sort of humorous," Stojko said, noting that this very program has gotten marks of 6.0s and 5.9s before.
"That is the first time I have gotten 5.7s this year and I skated it at its top," he said.
Granted, he did get one 6.0 for artistry -- from the Canadian judge -- the only one of the night.
"If the message is to change what I'm doing, I'm not going to," he said. "I just stick to my guns and what I think skating should be."
Eldredge was thinking about Albertville.
Nursing a bad back and out of shape at the 1992 games, the 27-year-old from Chatham, Mass., fell on a simple double axel in the short program and finished 10th. He didn't even qualify in 1994 after getting the flu at the Olympic trials.
All of that was on his mind during warmups as he repeatedly popped his axels. But he did some exercises and pulled himself together - just in time.
"Not at all like Albertville. That's exactly what I was thinking when I went into that double axel," the five-time U.S. champion said, laughing. "If you make one mistake, you can basically get the flight home tomorrow. It's real tough if you make a mistake in the short to do what you want to do here. And we all want to win it."
He matched Kulik's technical difficulty and showed why he's the world's best spinner. By the end of his final combination spin, he was moving so fast he was a mere blur.
But was he daring? No. Maybe it was because he was skating his new short program to "Les Miserables" for the first time.
Kulik's performance was technically sound -- he landed all the required elements, including a huge triple axel-triple toe to kick off his program.
But instead of staying in place on his final combination spin, Kulik traveled across the ice, as if moved by an invisible hand. And when Jean Michael Jarre's "Revolutions" stopped, Kulik didn't -- finishing a full two beats afterward.
The gray netting on the arms of his art-deco -- some might call it hideous -- costume came to a halt even later.
But where Kulik really faltered was in his expressiveness. He didn't show any.
"I can do better," said Kulik, who beat Stojko and Eldredge at their last head-to-head meeting at the Champions Series final in December. "But in thispressure, this was the est skating I can show.
"You can't allow any mistakes in the short or the free," he said. "I'm looking forward to a battle. All the guys are so good."
Kulik will go first in the final group of six for the free skate, worth two-thirds of the total score. Eldredge follows, with Stojko last.
Stojko's way of dealing with pressure is to skate fast and powerfully. Though he skated 22nd, almost 90 minutes after Kulik and Eldredge, he didn't show any sign of nerves.
He opened with a difficult triple axel-triple toe loop combination, and still had some speed left over when he was done. He moved quickly across the ice, practically running to the frenetic drum beat of "The Lion."
"It was a tough situation to be in, having the rest of the guys skate well and you're at the end," Stojko said. "That's a challenge and I met the challenge."
Alexei Yagudin, considered a threat after his win at the European championships, was livid with his fourth-place finish. He hit some big jumps, but also finished after the music ended, and his spins were ordinary.
The Russian's marks ranged from 5.5 to a lone 5.9 for technical merit, and mostly were 5.7s.
"I skated clean. I did my work," he said, clearly annoyed. "For me, 5.8 minimum, not 5.5, 5.6. I don't understand."
Michael Weiss of Fairfax, Va., skating fifth in the order, over-rotated his triple axel and was sideways in the air before falling. The disappointment was etched on his face as he saw his marks, which ranged from 4.6 to 5.6.
He did make the cut from 29 to 24 for Saturday's free skate, winding up 11th.